Enjoy your summer
We have spent all year thinking about fun things we can do this summer, and we've come up with a whole heap of activities you can spend your time on in our newest release: Summer Holiday Island – available now on the Minecraft Marketplace.
Use the map below to explore the Island with us, and share some of your favorite images of your own Minecraft summer holiday to @podcrash on Twitter! Now enough talking, let's get into the fun stuff!
1) Dive into the Aquarium 🦈
Near the center of the Island, our Aquarium is full to the brim with Minecraft sea life. Be surrounded by the sea in our fish domes, watch some exotic crocodiles, penguins, and sharks roam their enclosures (although hopefully not together!), and see what really goes on under the sea! A perfect attraction to visit with friends, can we come along?
2) Putt a few hours away in Mini Golf ⛳
Make your way around our 9 holes mini golf course located in the Island forest. Challenge your friends and see who is able to go through, round and over the various obstacles one each course. Holes get progressively harder as you make your way through the forest. Hole 8 is my favorite! Which is yours?
3) Visit the beach 🏖️
There's sand in my shoes!!! But at least we get to play on the beach. Chill out on a sun lounger, or get a drink and paddle in the ocean. The island is surrounded by beaches, so you're never short on a place to kick back and enjoy the sun. What's your favorite thing to do at the beach? Can't beat a good sandcastle if you ask me!
4) Under the sea 🤿
As a wise little crab once said "Life under the sea is better than anything they got up there" – and whilst I will say our island is pretty cool (okay I am a little biased) when you put on some scuba gear and go for a swim you are likely to find all sorts of interesting, weird, and colorful animals and plants. Grab some scuba gear from the driving instructor and jump in!
5) To Yacht or not? 🛥️
Ever wanted to just grab a speedboat or a jet ski and feel the breeze in your hair and the sun on your face? No… Just me? Oh alright. Well, you should totally try it out! Around the island, there are loads of different boats that you hop in and take for a spin. If you're playing with friends, why not challenge them to a race around the island? We can neither confirm nor deny that this was a large part of our team's playthrough of this map!
6) Feeling a bit lazy? ⛱️
Boats are cool but sometimes they are just too much speed for one person to handle… if you want to slow the pace down a little then jump in a float, put your legs up, and float through the lazy river. Its bending, narrow stream wind through the entire island and allows you to really see the sights. That's if you don't relax too much and fall asleep!
7) Jump to it 🏃🏽‍♀️
If boating and relaxing really isn't your thing, why not take a run along the water obstacle course and tackle the challenging parkour that awaits you on your journey to the top! We can confirm that there are some great views once you get there.
8) Cart Race? 🚗
Scattered around the island, these golf carts are here for you to get between attractions easier. It's your holiday, why should you be made to walk everywhere! While you're at it, why not get a few friends together and see who can find the quickest route to one of the destinations!
Warning: We take no responsibility for any injuries caused in golf cart crashes that happen on our island!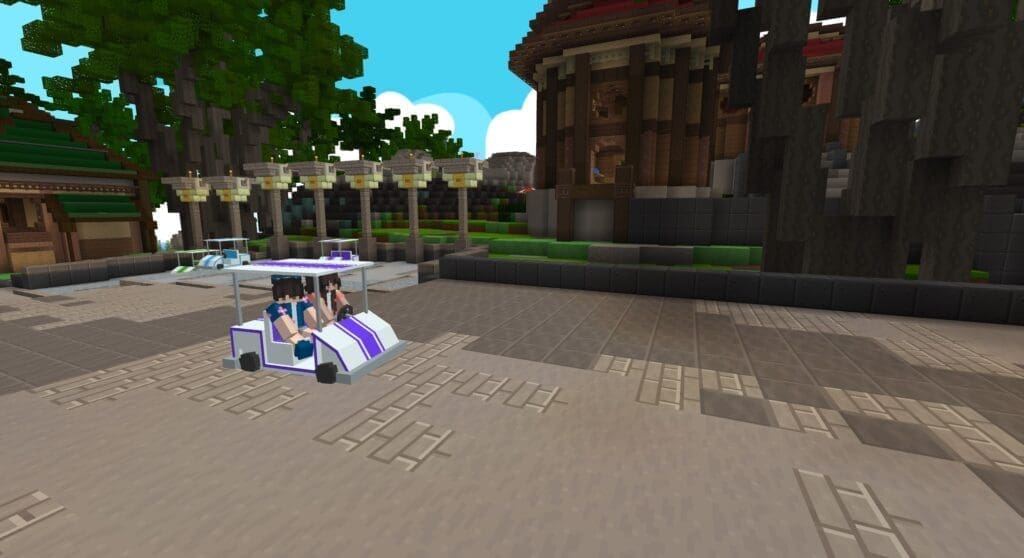 9) Become an adventurer! 🔭
You are on your very own island so why not make use it! Become an adventurer, and explore the island's many ancient mystical statues (that totally weren't built only a few years ago when our island became a tourist spot). If you're feeling brave enough why not climb the huge volcano, but don't touch the lava, it might burn!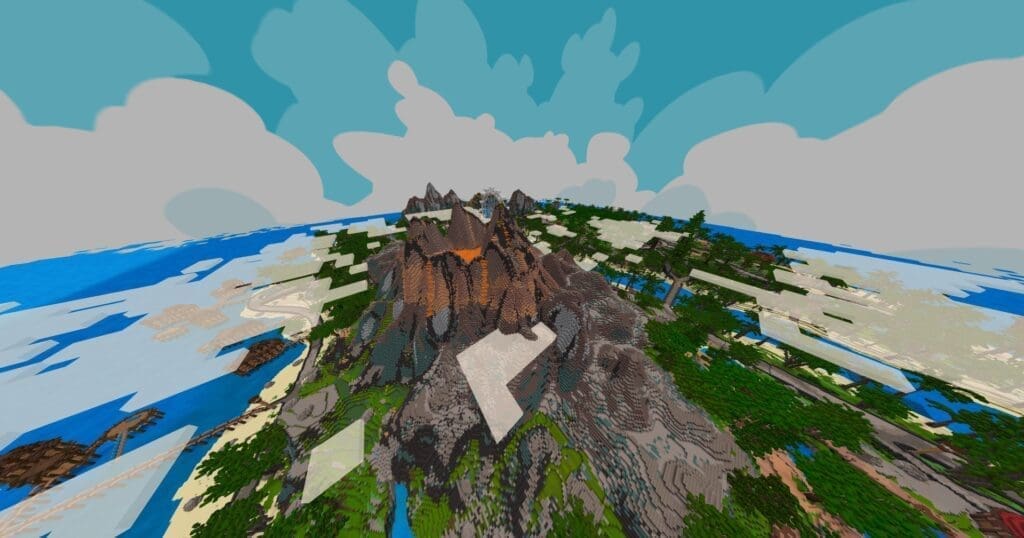 10) Walk the plank ☠️
What sort of island would we be if we didn't have our very own Pirate ship and crew! Cannonball off the ship and swim around the boat, talk to the crew, or explore the decks of the pirate ship!
Be warned though: Any gold you decide to take on to the ship may not leave with you!
11) I can see my house from up here! 🎡
Take a nighttime visit to our humungous Ferris wheel (you can't miss it) and watch our island's famous firework show! We guarantee that you will love every second of it, and what a view over the island you'll get once you're up there! This is not an attraction for those who are afraid of heights, but we really recommend it as a way to end a long day.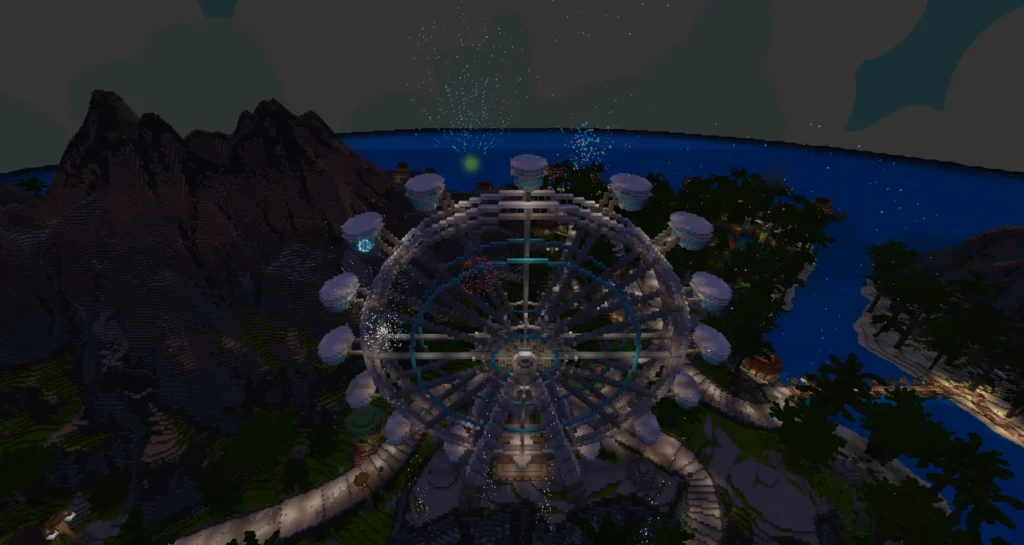 12) Get your very own Cabana 🛏️
All that exploring gets tiring, and after a long day of playing, exploring, and relaxing you're going to need a place to relax and sleep! Well, we know just the place! After locating your ideal cabana on the map, you can start decking it out with furniture available from our island staff – who you will find around the island on your adventures. Get creative and make it your very own cosy place!
That's all from us for now!
That's it! Our tour of the island is over, but should you ever want to refresh your memory: you can visit our tour guides at the entrance where you will receive your very own map to help you find your way around! Enjoy your holiday on our Summer Holiday Island (available now on the Minecraft marketplace)!
Final tip: If you're still a little unsure, why not check out our trailer below!